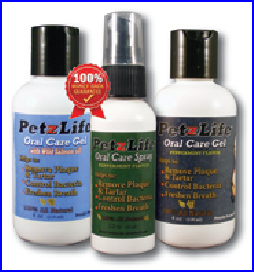 Petzlife Oral Care Spray
Quantity :
Product Description
Petzlife Oral Care Spray - Dental health is critacal to your dog's overall well being. All natural imgredients safely remove plaque and tartar, reverse oral disease, promote healthy gums, brighten teeth and kill bacteria that causes bad breath. 450 + sprays per 2.2 oz bottle.
Our Oral Care Spray & Gel work fast and naturally to help control plaque and tarar on dogs and cats. It also helps control bacteria and bad breath.
The secret? A proprietary blend of Grapefruit Seed Extract and other all natural herbs and ingredients produces a safe and effective oral care maintenance program, especially for senior pets.
According to Animal Doctor syndicated columnist, Dr. Michael Fox, "Safe and effective dental health products, like Petzlife Oral Care, Dr. Michael Fox, BVetMed, PhD, DSc, MRCVS,