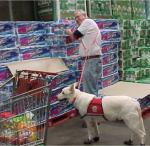 Hands Free Leash
Imprinted
5/8" wide-7 ft. Length
Red, Blue, Green,&nb
Product Description
Imprinted
5/8" wide-7 ft. Length
Red, Blue, Green, Orange.
The Hands Free Leash has 3 D Rings to allow different configurations. Use it around your shoulders like a handbag, around your waist or around your leg. Gives you the freedom to keep your dog leashed when your hands are busy doing other things. ie. signing, wheelchair bound or using a cane/crutches.